Tennessee Peanut Company and the Cleveland family understand what makes a quality peanut. Their product, coupled with the world class service has me coming back for more peanuts every time! If you have not yet had their peanuts you must try them! But be aware, you will be coming back for more sooner than you think!
Andrew Bender
I will always have some Tennessee Peanut Co peanuts on hand. A fantastic snack, a great gift, and a great company to support. Keep up the awesome work and I'll keep up the orders. Thanks for caring about what you do. It really shows.
Jeremy Williams
So why am I ordering peanuts from clear across the country instead of just popping down to the local grocery store? Because these are the freshest tasting peanuts I've ever had. No oily aftertaste. Amazing
M. Kauffman
Your Nashville Hot Peanuts the traditional out of the shell were amazing! Patiently waiting to try the chocolate covered peanuts and the chocolate covered brittle. Definitely a returning customer.
Jace Thorn
I am absolutely addicted to the Nashville Sweet and Hot peanuts…and all of your peanuts. I always start by picking a few individual nuts at a time, but find myself switching to scooping handfuls before too long. Best way to spice up my work from home life!
Andrew Barnes
Thank you, Tennessee Peanut, for my order and for solving my "gift dilemma" so many times. The flavors of all the other treats from Tennessee Peanuts are equally enticing, especially the peanut brittle! My children and grandchildren are delighted to get them in the mail or order the ones they love to give as gifts also.
Barbara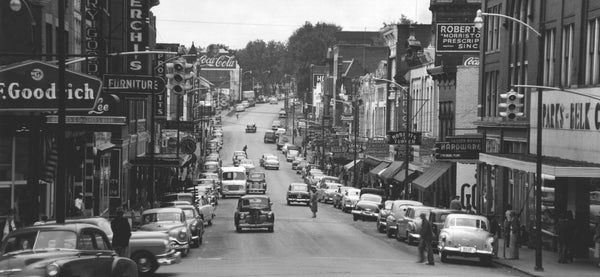 A HISTORY IN THE MAKING
Many folks are unaware of peanuts being a major rotational crop in Tennessee prior to WWII. Hickman County and surrounding had an extensive agricultural program that built quite an economic stimulus for the state of Tennessee. It's our hope to bring traditional peanut varietals that once grew in Tennessee back home.
Join our newsletter to keep up with the journey.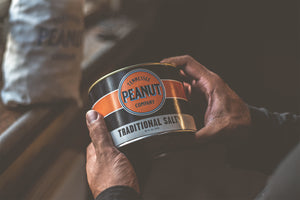 INTENTIONAL DESIGN
We can't resist classic design - products that stand out and blend in, anywhere they happen to be. It's our intention that the products we use be more than a throw-away item - we want them to honor the environment they're in - whether on a table for snacking with the family - or on a shelf a 100 years from now.
FAMILY OWNED AND OPERATED
WE ARE THE CLEVELAND FAMILY OPERATING RIGHT HERE IN NASHVILLE, TENNESSEE. WHEN YOU BUY FROM TENNESSEE PEANUT COMPANY, YOU ARE INVESTING INTO A FAMILY. WE ALWAYS DREAMED OF OFFERING WHOLESOME PRODUCTS FROM ONE FAMILY TO ANOTHER. WE'RE SO GRATEFUL FOR YOU TO ALLOW US THAT OPPORTUNITY.
WE CONSIDER IT AN HONOR TO SERVE YOU IN ANY WAY WE CAN.
JAY, JESSIE, EMERSON + BYRDIE LOU