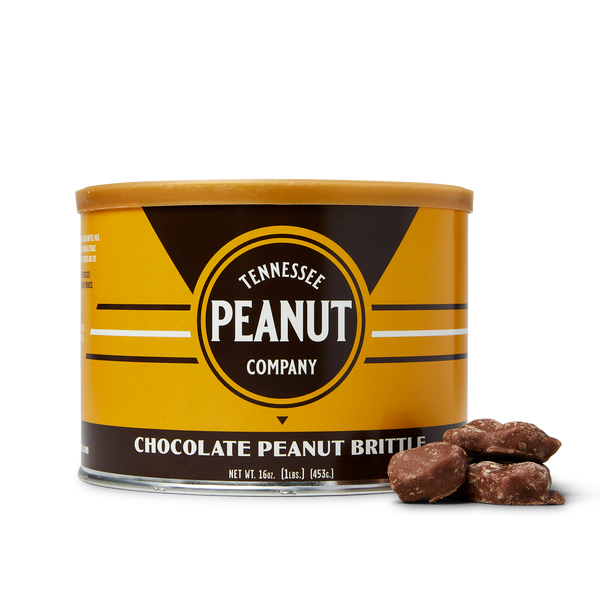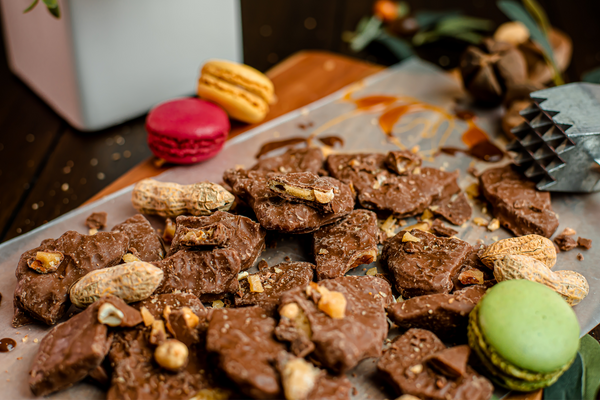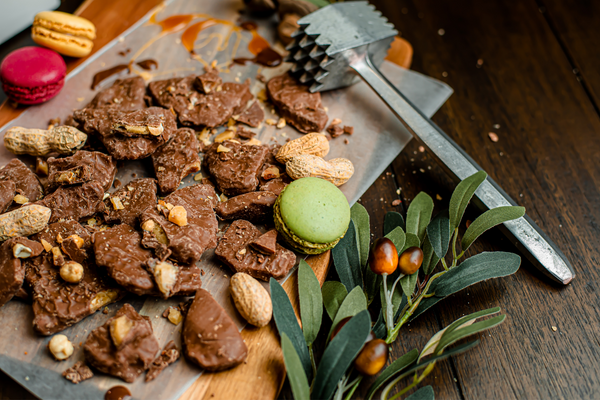 Our chocolate peanut brittle combines the perfect balance of sweet and salty for a crunchy treat. Deliciously roasted peanuts are embedded in rich dark chocolate and sprinkled with sea salt for a treat that's simply irresistible.
Candy that needed more candy
Peanut brittle is documented as being a rigid solid that snaps in the mouth and then attaches to the teeth. An odd yet effective solution to minimize the "brittle to molar attachment phenomenon" is to add a coating of milk chocolate. The soft creamy layer of milk chocolate curbs the shattering of caramelized sugar inside of the mouth and then lines the teeth to reduce the action of peanut brittle adhesion. Although a minimal amount of adhesion still occurs the scientific community has conceded that the result is absolutely delicious.
Excessive yet practical.
Nutrition
16 oz. Size:
Nutrition Facts 16 servings per container Serving size 3 pieces (28g) Amount per serving Calories 110 % Daily Value* Total Fat 2.5g (3% DV), Saturated Fat 1g (5% DV), Trans Fat 0g, Cholesterol 0mg (0% DV), Sodium 280mg (12% DV), Total Carbohydrate 21g (8% DV), Dietary Fiber 0g (0% DV), Total Sugars 15g Includes 12g Added Sugars (24% DV), Protein 1g, Vit. D 0mcg (0% DV), Calcium 10mg (0% DV), Iron 0.2mg (2% DV), Potas. 30mg (0% DV). *The % Daily Value tells you how much a nutrient in a serving of food contributes to a daily diet. 2,000 calories a day is used for general nutrition advice.
Ingredients
16 oz. Size:
Ingredients: Corn Syrup, Sugar, Peanuts, Sugar, Cocoa Butter, Milk, Chocolate Liquor, Soy Lecithin [an Emulsifier], Vanilla Extract, Sodium Bicarbonate and Salt. Contains: Milk, Peanuts and Soy.